David C. King
Professional Profile: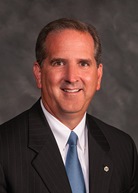 David C. King is President and CEO of Horst Insurance. Dave specializes in large, complex commercial accounts where emphasis is placed on program design, master planning and coverage consolidation. His clients' insurance programs often include master policy programs involving multiple entities, locations and exposures, or alternative approaches such as captives or self-insurance. Dave's skills include helping commercial clients assess and modify their risk management program, with a strong emphasis on business continuity planning.
In addition to his duties as President of Horst Insurance, Dave also serves as Corporate Risk Manager for Horst Group, Inc. and its diverse set of Construction, Excavation, Property Management and Senior Care business units. As an active Risk Manager, Dave is able to constantly hone his insurance and risk management skills from both the buyer and broker perspective.
Work Experience:
Dave has been involved in insurance and risk management since 1986, having worked as an Account Executive at a regional brokerage, before moving on to Marsh & McLennan, Inc. and taking responsibility for a book of large clients, with an emphasis on hospital and healthcare accounts. Dave joined Horst Insurance in 1993 as an Account Executive in the Commercial Property & Casualty division. In 1999, Dave became Vice President of Sales at Horst with responsibility for all production efforts within the agency. Dave transitioned to the role of President and Chief Operating Officer in 2003 and later became President and CEO in 2005. Today, Dave continues as President and CEO, while still managing a large book of commercial clients. Dave also serves as a member of the Key Leadership Team of Horst Group, Inc. and is a member of the Board of Directors of Horst.
Education:
Franklin & Marshall College – BA in Government & Economics
Wharton School of the University of Pennsylvania – CHUBB Recognized Leader Program
Sitkins Sales Management School
Board / Community Positions:
Horst Group, Inc. – Board of Directors
Millersville University Center for Disaster Research and Education – External Advisory Board
Insurance Agents & Brokers of Pennsylvania – Board of Directors
Lancaster General Health – Patient Safety Committee
Sitkins International – Past Board Member
Hartford Insurance Co. – Jonathan Trumbull Council – Past Member
Harleysville Insurance Co. – Past Agent Board Member
Ohio Casualty Insurance Co – Past National Agent Board Member
Hobbies / Interests:
Chesapeake Bay Boating
Golfing
Sporting Clay & Trap Shooting
Aviation
Articles Authored by David:
FOR A PDF VERSION OF THIS BIOGRAPHY, CLICK BELOW: